Do you know which of your daily activities directly lead to revenue?
Revenue is the only priority that matters for your startup. Do you know the best source of first revenue or how to best replicate your initial revenue?
By making a handful of small, cumulative changes, you can take control of your startup's success.
This free eBook is your comprehensive guide to the behaviors that win customers and grow revenue. Download your copy to learn:
The only equation that matters when it comes to revenue growth (after learning it, you may realize you are prioritizing the wrong things every day)


How to implement the equation for your startup by defining the outcomes that establish the path to revenue


What it means to shift from strategizing to doing – and why you need to make this shift yesterday


5 specific, easy-to-implement ways you can jump-start your startup



4 actions you need to take right now to accelerate your path to revenue and product-market fit
Complete the form to the right to get your copy today!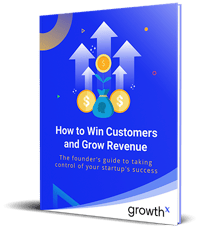 Download Your Copy of the eBook Today
Fill out the form below and get your copy instantly delivered to your email: